Jednoveľkostná látková plienka vhodná od narodenia po nočník. Vďaka unikátnemu strihu plienka výborne schne a dobre saje. Je ušitá z kvalitného bavlneného froté, vyrobeného v Českej republike. Na upevnenie sa používa sponka Snappi®, ktorú je nutné objednať zvlášť. Je treba prikúpiť i nepremokavé vrchné nohavičky. Pre pocit sucha odporúčame dokúpiť flísové separačné vložky.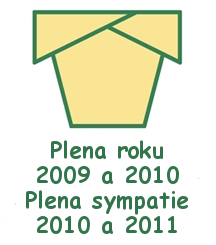 Tvar a veľkosť:
* Unikátny strih látkovej plienky Haipa-daipa spočíva v tom, že jej savé jadro nie je všité, ale vzniká preložením plienky.
* Posúvaním prostrednej časti ("chobota") taktiež volíte veľkosť, ktorá najlepšie vyhovuje Vášmu bábätku, vďaka čomu plienka "rastie" spolu s ním
* Ďalšou výhodou nevšitého savého jadra je, že je možné skladať plienku Haipa-daipa inak pre dievčatká a inak pre chlapčekov, aby sa dosiahlo maximálnej efektívnosti.
* Pastelka je obšitá plochým švom, takže nedrie do nožičiek a na zadočku bábätiek i na väčších deťoch vypadá veľmi malá.
* Je vhodná pre deti od cca 3 do 15 kg, to znamená od narodenia po nočník.
Zloženie materiálu:
* Plienka Haipa-daipa Pastelka je vyrobená z materiálu spracovaného výhradne v Českej republike.
* Gramáž froté 350g/m2 je optimálna z hľadiska nasiakavosti i rýchleho uschýnania plienok.
* Zloženie 90% bavlna, 10% polyester zaručuje, že plienka pekne drží tvar a pri použití sponky snappi sa z nej nevytrhávajú očká.
* Atestované u SZÚ (Státní zdravotní ústav) pre deti od 0 rokov.
Absorpčné schopnosti:
* Napriek tomu, že plienka Haipa-daipa vyzerá na bábätku tenko, má výbornú absorbčnú schopnosť. Jej nasiakavosť je až 350ml.
* Ak použijete plienkovú vložku, zvýšite nasiakavosť na viac ako 450ml.
Potrebné množstvo:
* Pri plnom "látkovaní" doporučujeme 24 plienok na celé obdobie od narodenia po nočník. Je to dostatočné množstvo k tomu, aby sa nemuselo prať častejšie ako jedenkrát za 2 dni.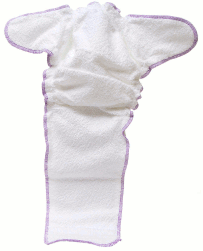 Pranie a sušenie:
* Plienky je treba pred prvým p oužitím vyprať. Vlákno je z továrne navoskované, svoju maximálnu nasiakavosť získa až po niekoľkonásobnom vypraní.
* Perte na 60°C.
* Nie je treba žehlit.
* Doporučujeme 2x pláchať kvôli dokonalému odstráneniu pracieho prostriedku.
* Do druhého pláchania pridajte 2-3 lyžice octu.
* Nepoužívajte aviváž, znižuje nasiakavosť materiálu a bábätko by mohlo byť naňu alergické.
* Rozložená plienka má iba 2 vrstvy a vďaka tomu veľmi rýchlo schne. Úmyselne neudávame počet hodin schnutia, keďže podmienky pre sušenie sú rôzne. Iba tak pre zaujímavosť, v lete na slnku a pri miernom vetríku uschnú do hodiny. Samozrejme v zime pri daždi, vo vlhkej kúpeľni a s práčkou, ktorá odstreďuje iba na 600 to bude úplne inak :-).
Upozornenie:
* Údaje o váhe sú iba orientačné.
* Plienka má zrážanlivosť cca 5%.
* Je nutné z novej plienky dôkladne vyprať všetok vosk, inak sa môže stať, že moč nebude absorbovaná, ale iba po plienke stečie do vrchných nohavičiek, ktoré môžu prevlhnúť.
Prosím prečítajte si i odpovede na najčastejšie otázky o Haipa-daipa plienkách (skladovanie, pranie, problémy s tvrdou vodou a ďalšie) na stránkach haipa-daipa.com/faq/
Additional Information
| | |
| --- | --- |
| SKU | HDP0002 |
| Country of Origin | Czech Republic |
| Brand | Haipa-daipa |
| Manufacturer | Haipa Daipa |
| Material | cotton/pes |
| Size | OneSize 3-15kg |
| Fastening | none |
| Color | natural |
| Best Using | For the day |
| Diaper Cover Needed | Yes |
| Washing | 40-60°C |
| Certification | Czech Product |
All Haipa-daipa products carry the logo "Czech Product". What the logo guarantees:
* Product is 100% made in Czech Republic.
* Only Czech employment (or employees registered in the Czech Republic) involved in the production.
* Czech material - where it is possible, at least 50% of the raw materials may be originating from the Czech Republic; if the raw materials can not be obtained in the CR, it is necessary to meet the condition of at least 100% of the Czech work, that means the new product from these materials has to be made in CR, not just repackaging .
* Manufacturer guarantees quality and safety of the product.
* Manufacturer adheres to the rules of law, pays taxes, social and health insurance within Czech Republic.
* Manufacturer meets environmental standards.
* Manufacturer respects consumer protection rights.
* Product meets strict criteria and manufacturer received a license to use the protected trade mark Czech Product for particular products.
To see all products of brand , please click on its logo below
You may also be interested in the following product(s)
Excl. VAT:

€12.46

Incl. VAT:

€14.95

Regular Price: €2.25

Special Price: Excl. VAT: €0.83 Incl. VAT: €1.00

Regular Price: €14.65

Special Price: Excl. VAT: €4.17 Incl. VAT: €5.00

Excl. VAT:

€2.75

Incl. VAT:

€3.30