Also common among many users is to mix a small amount of Henna Black into a base of Mahogany, Chestnut Brown, or Walnut Brown to darken the color result. Henna Black Shade is designed for darkening brown hair. It is not suitable for colouring greyor white hair, because it contains indigo, which is a blue plant and it could discolour grey hair to a grey/blue/purple colour. However it can be applied to white hair if it is mixed with other shades such as brown umber.
If you want to create a deeper colour, instead of the boiling water you can use brewed coffee or hot black tea.
Before using Logona Herbal Hair Colour, apply a thin layer of a rich cream along your hairline to prevent the hair colour from staining your skin. Protect your hands and clothing by wearing the gloves enclosed and an old towel around your shoulders.
How to Use
The first step is to perform a strand test on a small piece of hair to determine how long to leave your colour on for. Next, stir approximately 300 ml of boiling water into the herbal powder of Logona Henna Red Herbal Hair Colour to achieve a creamy consistency. Protect your clothing by placing a towel around your shoulders. Wear the enclosed gloves.
After leaving the mixture to cool to the comfortable temperature, apply the Herbal Hair Colour evenly strand for strand to all the hair. If any hair colour gets on your skin, wipe with a damp cloth. Cover the hair with the enclosed warming cap and wrap a towel around your hair to keep your head warm, encouraging the colour to penetrate deeper. Leave the colour on your hair for the duration determined by your strand test.
Rinse your hair thoroughly and treat it with Logona Colour Conditioner which will fix the colour to make it last longer and ensure maximum shine.
Applying colour on colour always makes more colour so the more you colour your hair the better coverage on your grey hair. Always shampoo, no conditioner before application. Apply to dry hair and sit in the sun or apply heat over plastic cap and towell with a dryer. Leave for at least one hour. Always do a test strand for suitability of colour.
Advice
Before colouring, treat your hair with Logona Colour Plus, a hair mask for intensive pre-colour treatment to remove any traces of hair care and styling products, dandruff and excess oils. Afterwards, use Logona Colour Care Shampoos which will protect and preserve your colour while cleansing your hair. Try combining different shades of Logona Herbal Hair Colour to create your own unique colour.
Choosing the right color
* LOGONA Herbal Hair Colors color your hair gently and long lasting.
* Independent labs test each hair color batch for residues of agricultural chemicals and heavy metal concentrations.
* LOGONA hair colors do not attack the hair structure, as do permanent hair colors.
* LOGONA hair colors are completely free of synthetic colorants, fragrances, preservatives, and aggressive ingredients.
Pamper yourself with Logona's totally pure organic henna Herbal Hair Color without PPD (para-phenylene diamine) and other aggressive chemicals. Whether you want to get more depth in your own color or completely change your color, you have many beautiful colors to choose from. Available in either powder or in cream. Cream colors are easier to use and also have a better coverage of gray hair (though the result will always be lighter than when dying non-gray hair). In contrast to chemical / synthetic hair colors, which after repeated treatments attack and destroy the hair structure, Logona´s gentle hair colors are put outside on the hair shaft without attacking the hair structure. Furthermore, the Herbal Hair Colors have a smoother color transition when new hair is growing out. Logona´s hair colors do not contain the harmful substance Lawsone, but only the harmless extract from the henna plant, Lawsonia Inermis.
LOGONA Herbal Hair Colors contain only 100% natural coloring and conditioning ingredients. The colorants used include certified organically grown henna, cassia, walnut, buckthorn, indigo, hibiscus, rhubarb, rhatany, coffee, curcuma, and beetroot. We grind these ingredients to a very fine consistency, and then mix in powdered wheat protein and jojoba for added conditioning benefits. We also add a bit of algin to improve the texture of the color mixture, and some essential oils to improve the fragrance.
A LOGONA Herbal Hair Color combines with your individual hair color and hair structure to produce an individual color result not completely predict-able. Fine or very light hair typically binds the hair color quicker and more intensively than thicker or darker hair. Consult with your hair stylist if you have questions about categorizing your hair structure and color. More about colors and application here.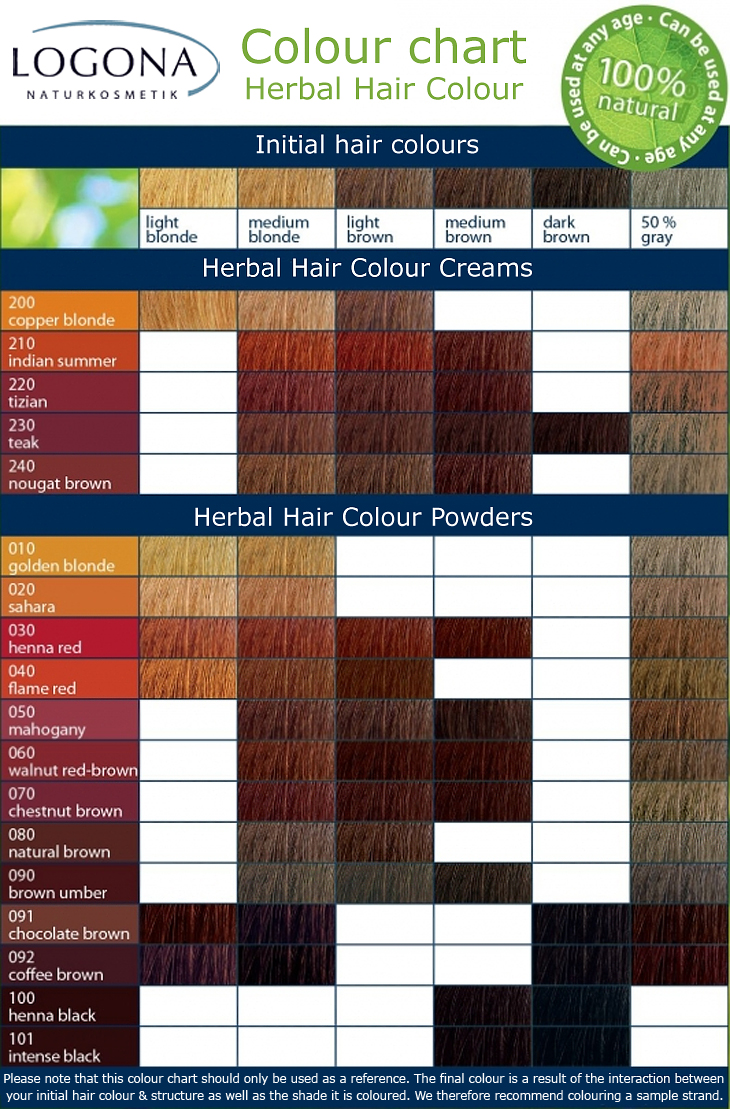 Additional Information
SKU
LOG01111
EAN
4017645008687
Country of Origin
Germany
Brand
Logona
Manufacturer
LOGONA Naturkosmetik und Heilmittel Hans Hansel GmbH
Product Line Logona
Natural Hair Colours
Packaging Size
100g
Product type cosmetics
Hair dye semipermanent
Cosmetic product properties
gluten-free, lactose-free, vegan
Ingredients INCI (CFTA)
Indigofera Tinctoria (Indigo) Leaf Powder, Lawsonia Inermis (Henna) Leaf Extract*, Acacia Concinna Fruit Powder*, Emblica Officinalis Fruit Powder*
* from controlled organic cultivation
Certification
BDIH Certified Natural Cosmetic Germany, Natrue Certified Natural Cosmetic
Logona products contain trusted, traditional, plant-based ingredients recognized for generations as completely safe for the intended use by humans.
Testing takes place exclusively on human volunteers. These tests accompany every Logona product, starting with self-testing by research and development staff members, continuing with similar staff testing during the microbiological stability trial period, and finally culminating with rigorous, scientific testing on paid volunteers under independent, dermatological supervision. Only after a product has successfully passed each of these phases can it be introduced to the marketplace. Respect for people, animals, and environment is the basis of our ethical self-image. For this reason Logona is actively engaged in the movement to validate alternative test methods, which do not utilize animals. Logona strongly believe that animal testing belongs to the past.
To see all products of brand , please click on its logo below
You may also be interested in the following product(s)
Excl. VAT:

€7.49

Incl. VAT:

€8.99

Excl. VAT:

€7.49

Incl. VAT:

€8.99