Now you can transform your look with a bold new shade, without causing damage to your hair. This semi-permanent hair dye will last between 4-8 weeks and will cover grey hair effectively. Instead of stripping away your hair pigments and drying hair out like chemical hair dyes tend to do, Logona Herbal Hair Colour Cream will nourish your hair strands and leave your hair looking healthier than it was before you coloured it!
Logona natural hair colour will not be able to turn your blonde hair dark brown, or your brown hair bright blonde as it doesn't contain any strong chemicals. Instead, the natural botanical colourants will change your hair by a couple of shades and bring a much more shimmering, multifaceted, glossy look to the hair's surface.
You can even mix together several different shades of Logona Herbal Hair Colour Cream to create just the right tone for a beautiful and unique look.
The Logona Colour Creams also provide excellent grey hair coverage, as they contain green clay which has a gentle stripping effect that prepares the hair shaft so that the pigment particles will adhere better.
How to Use
Before colouring your hair with Logona Herbal Hair Colour Cream, use Logona Colour Plus to remove all the build-up, grease and residue on your hair as well as open up the hair cuticle. This will make the colour hold better.
Herbal Hair Colour Creams are incredibly easy to use; simply squeeze the product from the tube and apply to your hair. Read the directions and further details on the package to learn more about application times and the hair colouring procedure.
After colouring you can use Logona Colour Conditioner to deep conditioner your hair and seal in the colour so that it lasts longer.
Advice
To keep your hair colour looking beautiful for longer, use Logona Colour Care Shampoo and Conditioner every time you wash, as these products are formulated to protect your colour and make it last.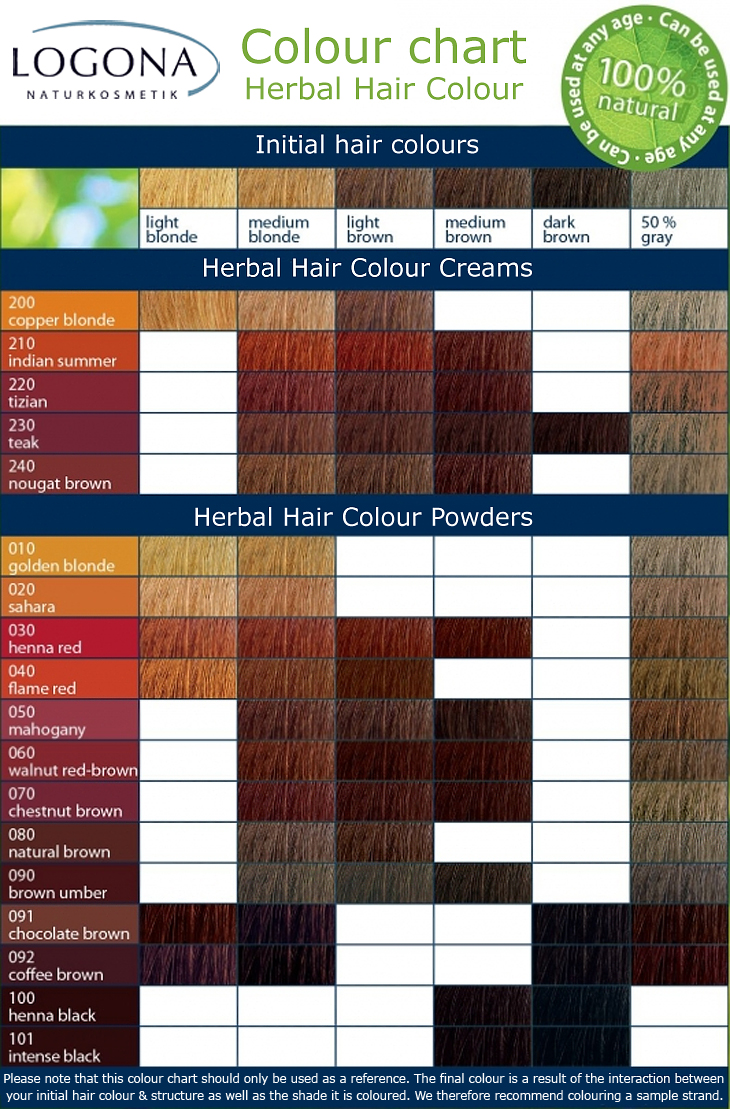 Additional Information
SKU
LOG03003
EAN
4017645017573
Country of Origin
Germany
Brand
Logona
Manufacturer
LOGONA Naturkosmetik und Heilmittel Hans Hansel GmbH
Product Line Logona
Natural Hair Colours
Packaging Size
150ml
Shades
Red/Henna
Product type cosmetics
Hair dye semipermanent
Cosmetic product properties
gluten-free, lactose-free, vegan
Ingredients INCI (CFTA)
Aqua (Water), Alcohol denat.*, Glycerin, Maltodextrin, Beta Vulgaris (Beet) Root Juice, Hectorite, Sorbitol, Chamomilla Recutita (Matricaria) Extract*, Lawsonia Inermis (Henna) Extract, Coco Glucoside, Xanthan Gum, Algin, Rosmarinus Officinalis (Rosemary) Leaf Extract, Citric Acid, Parfum (Fragrance)**, Linalool**, Limonene**, Eugenol**
* from controlled organic cultivation
Certification
BDIH Certified Natural Cosmetic Germany, Natrue Certified Natural Cosmetic
Logona products contain trusted, traditional, plant-based ingredients recognized for generations as completely safe for the intended use by humans.
Testing takes place exclusively on human volunteers. These tests accompany every Logona product, starting with self-testing by research and development staff members, continuing with similar staff testing during the microbiological stability trial period, and finally culminating with rigorous, scientific testing on paid volunteers under independent, dermatological supervision. Only after a product has successfully passed each of these phases can it be introduced to the marketplace. Respect for people, animals, and environment is the basis of our ethical self-image. For this reason Logona is actively engaged in the movement to validate alternative test methods, which do not utilize animals. Logona strongly believe that animal testing belongs to the past.
To see all products of brand , please click on its logo below

You may also be interested in the following product(s)
Excl. VAT:

€5.00

Incl. VAT:

€6.00

Excl. VAT:

€5.00

Incl. VAT:

€6.00