You can build anything from Ceeda Cavity wooden construction set. And you can add many blocks, some wooden toy soldiers and cannons and build a real fortress. And what child wouldn't love to have a farm? We offering many beautiful and colorful mini animal puzzles, that will fill your buildings with life. And do not forget to also check vehicles and combat equipment from Ceeda Cavity. Every farm needs a tractor and every fortress can use a tank.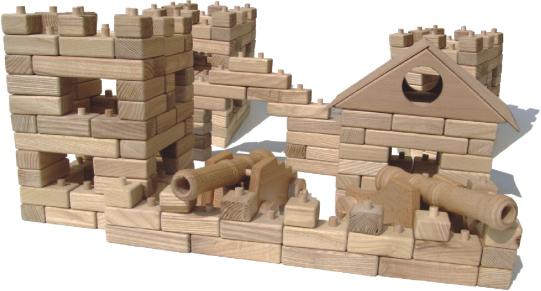 Additional Information
| | |
| --- | --- |
| SKU | CEA-AK10 |
| Country of Origin | Czech Republic |
| Brand | Ceeda Cavity |
| Manufacturer | Ceeda Cavity |
| Age | 3 Years + |
| Dimensions | 230x130x90mm, 645g |
| Material | wood |
| Certification | Institute for testing and Certification, Inc. Zlin |
The products are made from high quality beech wood. To preserve the natural appearance the most products are not painted. Their surface is waxed and polished, not chemically treated in any way.
Ceeda Cavity offers simple toys made from basic wood shapes and threaded nuts and pegs that can be taken apart easily. A mechanical learning toy that opens the door for imagination building, hand eye coordination and is the perfect set of toys.
The wooden pieces bring an environmentally conscious message. Each toy, in its natural color without artificial paint, is biodegradable and speaks the importance of sustainability.
To see all products of brand , please click on its logo below