Steiff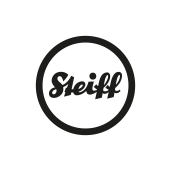 1. No harmful substances
We voluntarily go far beyond the legally-required standards and even surpass them. Because we are convinced that only animals which pose no health hazard deserve the good name Steiff.
2. No harmful dyes or colours
We have voluntarily imposed stricter regulations than required by law for all our dyes and colours. Children can put Steiff products in their mouths without any misgivings.
3. Highest-Quality materials
Only the finest natural fibres,such as mohair and alpaca or woven fur made of synthetic fibres, are woven in our own weaving manufactory, Steiff Schulte in Duisburg. Further more, we use only carefully-selected, inspected materials by wellknown
manufacturers.
4. Lint-Free plush
The plush of a Steiff animal has always been something special. It is extra-ordinarily true-to-nature, soft, long-lasting and loses nearly no hair. We use only uppers made of the highest quality.
5. No harmful fillings
We use exclusively new and nonharmful materials from the factory for the fillings of our Teddy bears and animals.
6. Highest-Quality seam workmanship
This is ensured by the standardised Steiff seam width as well as the high density of seams, which is typical only for animals from our company. A Steiff animal will last a lifetime.
7.Hygienic production
For the production of our animals, we pay careful attention that we adhere to all hygiene and cleanliness standards. For example, that is why we use metal detectors during all the production processes.
8. Independent inspection
For decades we have had our products checked by independent institutions and work intensively with further independent institutions such as TÜV and Dekra. In our laboratory at Giengen an der Brenzwe additionally carry out over 12,000 tests per year. The Steiff quality management system is certified according to DIN EN ISO 9001.
9. Unrivalled quality since 1880
Throughout the various production steps, we produce continuously environmentally-friendly as well as in view of the flaw-less quality and longevity of our products. A Steiff animal can be a companion throughout
a whole childhood and still be a source of joy even as an adult.
Material - Best materials for excellent quality

The best materials ensure the excellent quality of all Steiff products. Steiff uses mostly natural materials of exquisite quality, such as mohair, alpaca or woven plush.
Mohair - lustrous, shiny, sleek
For more than 100 years the shiny fur of the Steiff originals has come from one and the same supplier. This loyalty is based on trust in the excellent quality: Over the decades the mohair plush keeps its colour, silky shine and grip. The raw material for the exclusive mohair is the long grown hairy fur of the extremely valuable angora goat. Worked in tuft textile, the mohair is particularly hardwearing, its silky grip and shine make it one of the most valuable fibres which nature offers us.

Alpaca - soft, silky, opulent
Light, fine and extraordinarily soft: this is one of the most exquisite raw materials in the world, Alpaca. For the Incas it was worth gold and the appreciation of the hard wearing luxury hair has not changed until today. Steiff animals made of Alpaca are extraordinarily soft, hard wearing and remain beautiful for a very long time. And because exquisite materials never lose their beauty, touching your Steiff animal is still just as nice in many years time as at the beginning.
Woven fur – cuddly, velvety, robust
Amazingly soft and natural-feeling, this beautiful fabric is quite valuable. It is created through a unique three-dimensional weaving technique that involves inserting threads into cotton backing perpendicularly. The result is especially appropriate for huggable toys, though this sumptuous fabric is also used in our Studio range of near life-size creatures.
Plush – fluffy, versatile, soft
Plush Steiff animals are fluffy and feel particularly soft and gentle. A special finishing technique gives Steiff's knitted plush fabric a unique combination of soft feel and high durability. Plush can be used for a multitude of applications and its functionality makes it the ideal choice for the special demands of children's sensitive skin.