Did you know conventional sanitary pads and liners are made up of 90% plastic materials?! Every year, over 45 billion sanitary pads and liners are disposed of! Most are full of synthetic materials such as plastic that do not break down in the earth for hundreds of years. This is why in 1989, Natracare developed the world's first range of natural menstrual hygiene products, and they have been perfecting them ever since.
Plastic-free and totally chlorine-free, they do not contain rayon, latex, chemical additives, fragrances or dyes. Pads are worn inside the pants and stay in place by sticking to your underwear. They absorb the blood after it has passed through the vagina and out of the body. An ecologically certified absorbent cellulose core locks away menstrual fluid to keep you dry, and a soft organic cotton cover allows your skin to breathe. Many gynaecologists recommend Natracare for women with sensitive skin.

There are different types and absorbencies available. Natracare pads are available in 2 models (thinner ultra pads with wings and thicker 'traditional' maxi pads). Choosing a style of sanitary pad is less important than getting the correct absorbency to suit your menstrual flow. Both models are made in more types of size and absorbency.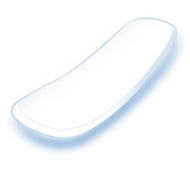 Natracare Maxi Pads
Maxi pads generally have a soft, absorbent cushioning which makes the design thicker. The pad fits close to the body making you feel better protected. Maxi pads, although thicker than Ultra pads, can be available in a range of styles including body contoured and extra long.
Fluffed TCF (non-chlorine bleached) wood cellulose absorbent core with plant cellulose based leak-proof barrier, encased in a soft cotton cover.
* Without wings
* Traditional shaped pads (Regular Pads have curved shape)
Soft certified organic cotton cover allows your skin to breath.
Soft, fluffy double absorbent cellulose core made from totally chlorine free pulp to keep you dry.
Waterproof plant-based back made from corn starch.
Oxygen to purify and whiten organic cotton instead of chlorine bleaching that creates a carcinogenic by-product called dioxin
These pads do not have wings, but have a long strip of glue along the back to ensure they stay in place.
Available in 4 types of size and absorbency:
* Regular for medium to heavy flow (14 pieces per package)
* Super for heavier flow (12 pieces per package)
* Long/Night Time for extra heavier flow (10 pieces per package)
* Maternity Pads very long pads for extra heavy flow after giving birth (10 pieces per package)
Material:
* Certified organic cotton and plant cellulose from fast growing, Scandinavian softwood trees sourced from sustainable, managed, natural forests.
* 100% certified organic cotton Cover next to your skin.
* Renewable and sustainable plant cellulose - from Forest Stewardship Council certified pulp (FSC), used for the fluff pulp of the absorbent core inside the pad.
* Biodegradable Bioplastic barrier to stop leakage made from plant cellulose.
* Chlorine-Free. Natracare does not use chlorine bleach in any of production processes.
* Skin irritants and chemicals, such as Fragrance and Dyes Free.
* Latex Free.
* Cruelty-Free. Not tested on animals
* Free of Plastic made from Petroleum. Natracare does not contain polyethylene, polypropylene or polyacrylate super absorbents.
Additional Information
| | |
| --- | --- |
| SKU | NC03034 |
| EAN | 782126003034 |
| Country of Origin | Greece |
| Brand | Natracare |
| Manufacturer | Bodywise (UK) Ltd |
| Ingredients | Certified organic cotton, ecologically-certified cellulose pulp, corn starch, non-toxic glue |
| Sanitary Pads | Day / Medium Pads |
| Style | Disposable |
| Pieces per pack | 12 pieces |
You may also be interested in the following product(s)
Excl. VAT:

€2.00

Incl. VAT:

€2.40

Excl. VAT:

€2.00

Incl. VAT:

€2.40

Excl. VAT:

€2.67

Incl. VAT:

€3.20

Excl. VAT:

€36.57

Incl. VAT:

€43.89