The Natracare tampon without applicator is made from a rolled wadding of 100% organic cotton. As the cotton gently absorbs the menstrual flow, the tampon expands widthways. Unlike the applicator style, this tampon is inserted using your longest finger which tucks into the flared end of the tampon to enable the tampon to be pushed into place. Deciding between an applicator and non-applicator tampon is generally a matter of personal preference.
About 20% of women naturally have a retroverted uterus (the uterus tilts backwards towards the spine instead of forwards) and using an inflexible applicator can cause pain during insertion. The Natracare non-applicator tampon, gently eased into the correct position using the longer index finger, makes inserting the tampon more comfortable. The organic cotton withdrawal cord allows you to easily remove the tampon after use.
100% organic cotton • non-chlorine bleached • rayon-free • certified organic
Natracare tampons were developed as a direct response to health and environmental concerns about dioxin pollution caused by chlorine bleaching, the extensive use of pesticide spraying on conventionally grown cotton, and the use of rayon and other synthetics in tampons.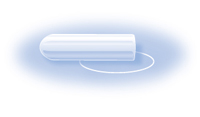 Most brands of tampons are made from a mix of rayon and non-organic cotton, and are commonly chlorine-bleached. Some tampons may even be wrapped in a plastic outer, or be dyed a different colour. Rayon is a highly absorbent fibre which rapidly absorbs menstrual blood but at the same time can also dry out the natural protective mucous lining of the vagina.
Dioxin, a toxic carcinogen, is a by-product of all chlorine bleaching methods and is also found throughout the environment in varying levels as a by-product of pesticide spraying and pollution from incinerators. Dioxin has been found to collect in the fatty tissues of animals, including humans and should, therefore, be a real concern for women. Published scientific reports have shown that evidence is growing that even low levels of dioxins may be linked to cancer, endometriosis, low sperm counts and immune system suppression. Considering a woman may use as many as 11,000 tampons in her lifetime, she may be subjecting herself to additional dioxin exposure.
Natracare tampons are all made from only certified organic 100% cotton and were the world's first fully certified organic cotton tampons. They are non-chlorine bleached and women can be reassured that they do not contain synthetic materials, such as rayon, or chemical additives such as binders or surfactants. Certified organic cotton removes the risk of direct exposure to residues from chemical pesticides and fertilisers used on traditional cotton.
You never need to use a deodorised sanitary pad or tampon. Some manufacturers add synthetic fragrances to panty liners and through their advertising and marketing, try to make women anxious that they are smelly during their period. Fragrances are not good for the skin and contain preservatives that are formaldehyde releasing, such as parabens. If you follow careful personal grooming, you will not have any unusual vaginal odour. If you experience an unusual discharge which does have an odour, then you must seek medical advice because this could be an indication that you have an infection.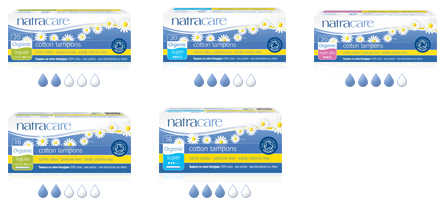 Available types of Natracare Tampons without Applicator:
* Regular (20 pieces per package)
* Super (20 pieces per package)
* Super Plus (20 pieces per package)
Available types of Natracare Tampons with Applicator:
* Regular (16 pieces per package)
* Super (16 pieces per package)
Material:
* Certified organic cotton
* Chlorine-Free. Natracare does not use chlorine bleach in any of production processes.
* Skin irritants and chemicals, such as Fragrance and Dyes Free.
* Latex Free.
* Cruelty-Free. Not tested on animals
* Free of Plastic made from Petroleum.
Additional Information
| | |
| --- | --- |
| SKU | NC01009 |
| EAN | 782126001009 |
| Country of Origin | Germany |
| Brand | Natracare |
| Manufacturer | Bodywise (UK) Ltd |
| Ingredients | 100% organic cotton |
| Sanitary Pads | Tampons regular |
| Style | Disposable |
| Pieces per pack | 20 pieces |
| Certification | Soil Association Certified Natural Cosmetic |
You may also be interested in the following product(s)
Excl. VAT:

€2.67

Incl. VAT:

€3.20

Excl. VAT:

€3.17

Incl. VAT:

€3.80

Excl. VAT:

€2.71

Incl. VAT:

€3.25

Excl. VAT:

€2.00

Incl. VAT:

€2.40